Top 10 Benefits of Cloud Computing for Business
Interested in the top 1o benefits of cloud computing for business?
You've come to the right place.
Innovating in the software industry represent a great way to make money as well as helping people. Here're a few amazing case studies of companies who hired DevTeam.Space to build their software products:
DentaMatch

– Healthcare Android and iOS App

Medicoin

– Healthcare Blockchain-Based Web Application

Medical Supply

– Healthcare Mobile App and Web Application
Introduction
Cloud computing is the way of the future. If your business hasn't jumped on board, what exactly are you waiting for? It's estimated that a whopping 90% of businesses already use at least one cloud computing service – because there are so many advantages that all point to increased profits. Don't you want to make some extra money?
I'm going to outline some of the major cloud computing benefits below, but if you're not familiar, you may be a little lost right now. Let me break it down for you.
Cloud computing is based on the Internet. Previously, a lot of business software ran on applications and programs that you'd need to download on a physical computer (remember all those clunky AOL CDs you used to get in the mail?). Cloud computing is so much simpler – it lets you access the programs you need, but through the internet. No clunky instillation required! This is used in everything from checking your bank balance on your phone to updating your Facebook status.
The disadvantages of cloud computing are few and far between, and you'll find that benefits often outweigh the risks. Here are some of the massive benefits of cloud computing.
Flexibility
When weighing the pros and cons of cloud computing, it's important to consider how flexible cloud-based services really are. Cloud computing has major flexibility for a growing business. This is perfect for:
Businesses that are just starting out
Business that are launching new products
If your business is expecting to grow, cloud computing makes that easy. You can swiftly increase your cloud capacity if you require more bandwidth from the service's remote servers. It's often as easy as clicking a button – and, also helps ease some of the risks associated with growing your business.
Imagine having to splurge on hardware to grow your business when you're not sure if your business will actually keep growing throughout the next few months. With cloud computing, you can increase and decrease your capacity with the click of a button, and you're not stuck with some massive investment you don't need.
Automatic Software Updates
Admit that you don't want to spend your time sitting around updating drivers on your company's computers. Imagine all the money you'd save if you didn't have to have one of your employees waste their time focusing on that (though we're sure your IT guy won't be thrilled).
The services you use for cloud computing roll out regular updates (including important security updates) on their own. You don't have to even give it a second thought, and instead, focus on growing your business rather than updating your company's computers.
Disaster Recovery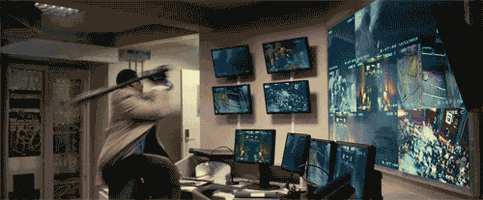 Imagine something terrible happens – there's a flood that ruins your businesses computers, a laptop with import files is stolen, etc. There are so many things that can go wrong, but there are relatively few risks of cloud computing for business. When it comes to security, cloud-computing is actually a great option for growing businesses because:
It's relatively inexpensive
It makes recovery easy
Third parties have expertise and knowledge you may not have
No large up-front investment
There are various cloud-based backup systems that can help you recover important things your business needs in the event of an emergency, and small businesses are twice as likely to use these cloud-based backup and recovery solutions because they're so effective.
Increase Collaboration Across Your Team
If teams can access and share files from anywhere at any time (as long as they have an Internet connection), your business is probably going to be a whole lot more productive and successful. This is one of the many major cloud computing benefits for businesses. Cloud computing can give your team:
Real-time updates on projects
Full visibility of collaborations
Freedom to work from anywhere
Say you've got a team member who's working late on a new project. You can see their results immediately with cloud computing without having to wait to get into the office the next morning. Everything just runs more efficiently and smoothly.
Avoid A Major Upfront Investment
Investing in the tools you need to run your business is one of the major battles you'll face as a business owner. Don't let anything regarding the technology you use be a source of that kind of headache. Cloud computing often runs on a supscription-based model that's so much easier on the wallets of small businesses.
For example, Adobe used to charge nearly $1000 for Photoshop. This put a huge dent in the pockets of struggling graphic designers, who often have to work for free or pennies until they build an impressive portfolio. Now, Adobe offers Creative Cloud, an easy-to-pay-for subscription that gives you all the same benefits, but won't leave you broke.
Work From Anywhere
Let's be honest: working from anywhere is a major, major perk. If your employees aren't tied to the office, your company can offer them a greater work-life balance without taking a hit in productivity. In fact you could even save money.
42% of workers are willing to take a pay cut if they can telecommute
On average, workers are willing to lower their salary by 6% for this perk.
Think of all the money that could save – and you're getting the same exact thing.
Increase Your Business' Security
You may think security is a huge risk if you're using cloud computing, but that's just not the case. If something happens in your office, your data is stored on the cloud so you can access it regardless of what happens to the particular machine it's on.
If you feel like there's been a security breech, you can immediately wipe data from the cloud from wherever you are.
Compete With the Big Guys
If you're worried about big businesses squashing your profits, think again. With cloud computing you can compete with the best of them. Cloud computing lets smaller businesses act faster than large companies, even if they don't have the major financing to throw at their growth. It's bridging the gap between big business and the little guys.
You're Literally Saving the Environment
This may be a small priority for you, but investing in your future also means investing in the future of our planet. When your needs fluctuate, you can downsize without hurting your business – this saves energy and reduces your carbon footprint. Also, think of all the paper you're saving from putting your documents on the cloud rather than printing up information sheets for everyone in your office.
Increase Control Over Documents
The more people who need to work on documents, the more you need an airtight way to control the information flow. You don't want to get bogged down in edits and possibly using old, incorrect files. No, way! Cloud computing lets everyone work off of the same files – no accidentally sending old versions of a project, or losing edits in the long process of project completion.
Conclusion
When weighing the advantages and disadvantages of cloud computing, you'll find that there really aren't too many risks. It's totally the way of the future. You can run your entire business from the comfort of anywhere that has an Internet connection – what could the cons possibly be?
If you want to make the move to cloud computing, head on over to DevTeamSpace. DevTeamSpace has been helping industry leaders find technology solutions to help grow businesses — large and small. There is a cloud computing solution out there for you, you just have to find it.
Frequently Asked Questions
What is cloud computing?
Cloud computing involves offering remote or on-demand services to remote users. These can be anything from data storage to applications.
What are the benefits of cloud computing?
Cloud computing offers better data security as well as anywhere and anyone access.
What are the benefits of cloud computing in the healthcare industry?
Other than vital data security, it offers the chance for everything from quick access for doctors, both on call and in treatment centers, to more powerful data analytics tools.